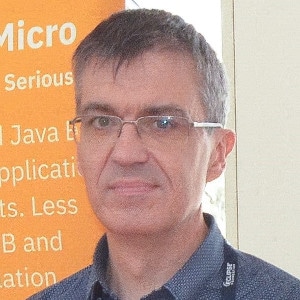 Rudy De Busscher
Rudy loves to create (web) applications with the Java EE platform and MicroProfile implementations and is currently working for Payara Services Limited in the Service Team. He helps customers, writes technical content, is part of some MicroProfile implementations and advocates the Payara Products in various ways.
He is active in the IT industry for more than 20 years and created many applications for customers. He is also a big fan of OpenSource and helped in various OpenSource projects like DeltaSpike, PrimeFaces, and Apache Myfaces. He is also passionate about Web Application Security using OAuth2, OpenID Connect, and JWT. He maintains the Octopus OpenSource project and is a member of the Jakarta EE Security API team.
How Class Data Sharing Can Speed up Your Jakarta EE Application Startup
Java Byte code is OS independent, which means that your application's startup takes more time than a native image. Using the Class Data Sharing functionality introduced in more recent versions of the JVM, you can prepare your application so that it will load very fast.
In this presentation, I'll go into more detail what Class Data Sharing is and the differences between the OpenJDK and OpenJ9 versions. With some Jakarta EE demo applications, you will see gains that you can achieve and reduce memory footprint a lot in Docker containers by sharing memory.